GET STARTED
CONTACT OUR PHYSICIANS TODAY





Common Testosterone Deficiency Signs And Symptoms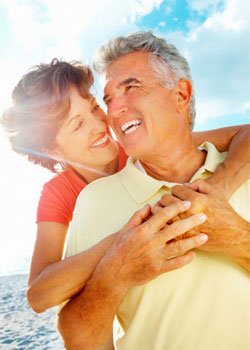 As a person gets older, they may start to feel tired, worn out, achy, mentally foggy and they may experience a lack of sexual ability or desire, forgetfulness, sleep disturbances, weight gain, muscle loss, osteoporosis and mild anemia (which causes fatigue). They may also have difficulty with healing or recovering quickly from exercise. These are only several of the common testosterone signs and symptoms for both men and for women.
When these problems mentioned above occur, they are not necessarily symptoms of a testosterone deficiency, but in an otherwise healthy adult, they commonly are. A simple blood test with the right hormone replacement therapy (HRT) clinic can help to find that out.
The very first step to finding out is to speak with an expert at a top HRT clinic. The phone call is free and so is the initial consultation.
Testosterone Deficiency Symptoms In Men And Women
Symptoms of a testosterone deficiency in females and males can range from mild to moderate to quite severe. When they get unmanageable, they can take away quality of life, cause severe depression and a withdrawing from life. Before a person gets to this point, they can minimize these problems or completely eliminate them with testosterone replacement therapy.
Let us look at what some of the testosterone deficiency symptoms in males and the testosterone deficiency symptoms in females are. Many times most of what you will read below can happen to both men and women respectively.
A Reference Guide To Signs And Symptoms Of A Testosterone Deficiency
| | |
| --- | --- |
| Decreased energy | Decreased spontaneous erection |
| Decreased stamina | The sweats |
| Decreased endurance | Shrinking or very small testes |
| Decreased vitality | Breast discomfort |
| Increased fatigue | Gynecomastia (swollen breast tissue in men) |
| Loss of memory | Loss of pubic and axillary hair |
| Forgetfulness | Reduced need for shaving |
| Lack of ability to concentrate well | Oligospermia (low sperm count) |
| Inability to focus for long periods of time | Oligospermia (no sperm count) |
| Loss of bone mineral density | Depressed mood |
| Easily fractured or broken bones | Anxiety |
| Osteoporosis | Irritability |
| Weight gain | Mood swings |
| Atherosclerosis | Easy agitation |
| Heart attack | Mental fogginess |
| Stroke | Reduced muscle mass |
| High cholesterol levels | Decreased strength |
| High triglyceride levels | Diabetes |
| Reduced libido | Mild anemia (low iron) |
| Erectile dysfunction (ED) | Increased body fat (especially around abdomen) |
| Hot flashes | Increased body mass index (BMI) |
| Early menopause | Less ability to work out as long or as hard |
| Reduction of intensity of orgasms | Tiredness |
| Reduction of genital sensations | Poor sleep or sleeping disturbances |
All of the above mentioned symptoms are common for those who experience signs of a testosterone deficiency. Again, the only way to find out if this is the cause is by getting the right blood testing completed. This must be done with a reputable clinic who only works with the best professionals in this field of medicine.
Getting to the root of the symptoms that are occurring as quickly as possible is one's best chance of keeping their quality of life at high levels. If they allow these above mentioned problems to become unmanageable, life will not have the same meaning and issues can occur such as:
Severe depression
Withdrawing from the world
Loss of a job
Loss of social relationships
Divorce
Ending of personal and social relationships
Low self esteem
A lack of desire for the future
Testosterone replacement therapy has been medically proven through research to be able to get rid of the symptoms that could ruin a person's life. It is a natural, safe and effective way to feel great at any age – when done correctly with the right TRT or HRT clinic.
Treat testosterone deficiency at HT Medical Center
For proven positive outcomes for treatment of testosterone deficiencies, HT Medical Center is one of the top choices of medical professionals. For the best in licensed professional doctors, clinical advisors, quality medications, medical supervision and customer service, this clinic has shown itself to have everything it takes to give people results that give them back their lost quality of life due to low testosterone levels.