GET STARTED
CONTACT OUR PHYSICIANS TODAY





How to Know If I Have Low Testosterone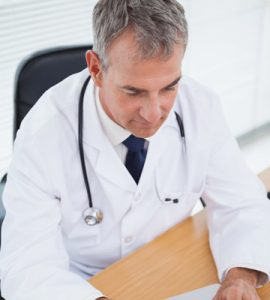 Low testosterone may not seem like a serious problem at first, but if left untreated, it can lead to many other health concerns. Men start to experience a decline in testosterone production as early as their late twenties. For women, the biggest drop in testosterone comes during menopause when the ovaries stop producing crucial hormones.
Can you tell me how to know if I have low testosterone?
Diagnosing Low T is not as easy as some people might think. Most men automatically believe that it has to do with libido, and while a drop in sexual desire is one of the symptoms of low testosterone, there is much more to it than that. The doctor – a hormone replacement therapy specialist – will look at a bigger picture when making this diagnosis.
How can I know if I have low testosterone if the diagnosis is complicated?
You will undergo blood analysis and physical examination, and the doctor will compare these results to the symptoms you have to determine if low testosterone is the cause of your issues.
Symptoms of Low Testosterone
Part of the reason that diagnosing low testosterone is so difficult is that the symptoms mimic those of other hormone imbalances, as well as certain medical conditions.
How do I know if I have low testosterone if I have lost interest in sex? What role does erectile dysfunction play in the diagnosis?
ED is not always connected to low testosterone levels, although sometimes it is. A man can have Low T and still function properly in bed, or he can have erectile dysfunction and have normal testosterone levels. That is why we also look at other symptoms associated with low testosterone.
Can you give me a list of symptoms for how to know if I have low testosterone levels?
Yes, the symptoms of low testosterone include the following:
Low libido
Fatigue
Lack of stamina
Weight gain
Lean muscle loss
Reduced strength
Decreased bone density
Height shrinkage
Joint pains and stiffness
Forgetfulness
Trouble with mental calculations
Difficulty processing information
Lack of focus
Hair thinning or loss
Depression
Anemia
High cholesterol and triglyceride levels
Mood swings
Hot flashes
Night sweats
Symptoms associated with menopause
Lack of drive and motivation
Increased stress and anxiety
Insomnia and difficulty getting enough sleep
People who have been diagnosed with obesity, osteoporosis, heart disease, atherosclerosis, diabetes, or dementia also have higher risk factors for Low T. While you may not have all of the symptoms on the list above, if you have at least a few of them, you may have low testosterone and should contact a hormone specialist for testing.
How Doctors Diagnose Low Testosterone
The diagnosis of low testosterone relies on a combination approach that looks at blood levels of total and free testosterone, the individual's current and previous health issues and medical treatments, overall physical condition, and symptoms.
Here are the four steps needed before the hormone replacement therapy specialist will diagnose low testosterone and offer treatment:
During the consultation (either in person at a local clinic or by phone with a national HRT center), the hormone specialist will ask questions about symptoms, overall health, and reasons why Low T is suspected. This is also the time for you to ask your questions of the provider.
Blood analysis measures total and free testosterone, IGF-1 (for growth hormone deficiency), cholesterol, blood count, and other crucial levels that will determine if any hormones are too low, or if any other problems exist that could be the cause of the symptoms.
The examination process provides information used during the treatment determination, as well as ruling out other potential health concerns.
Medical History Questionnaire
This health form gives the HRT specialist a detailed look at current and prior health issues and treatments that may be causing any symptoms or might be involved in a decline of hormone levels. It is also important to include over-the-counter supplements.
For additional information or to speak with a hormone specialist, contact HT Medical Center by phone or the contact form on this page. Consultations are confidential and provided at no charge.